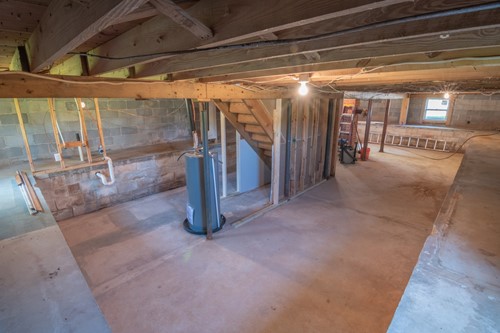 If your home has an unfinished basement, it may seem like the space is useless until you take the steps to finish it. However, unfinished doesn't have to mean useless. There are some simple and inexpensive ways you can make an unfinished basement work for you with no remodeling. Here are some inspiring ideas to try in your unfinished basement.
Soften a Poured Concrete Floor
Many unfinished basements have a basic poured concrete floor. Concrete can make the basement feel cold, harsh and uninviting. One of the simplest ways to add comfort and utility to your basement is by adding rugs, foam mats or carpet panels to the floor. You can use a bright and cheerful area rug to liven up the space and add some softness to the stark concrete. Foam gym mats are a great way to increase the comfort and safety of the floor and carpet panels can make the entire space feel more finished than it truly is.
Add Attractive Lighting
Most unfinished basements have very little to offer in the way of lighting. Yours might have a single fluorescent fixture or naked light bulbs for purely utilitarian lighting. While it's important for the space to be well lit for safety reasons, there's no reason you can't dress it up and make it feel more like part of your home. Try hanging up some string lights either on the walls or from the ceiling rafters. The ambient light created by the smaller lights will warm up the space and make it more inviting. You can also dress up the existing lighting by adding stylish shades and fixtures.
Work With What You Have
One of the significant advantages to an unfinished basement is that you don't have to worry as much about things like spilled paint or scattered sawdust. By working with the purely utilitarian features of your unfinished basement you can create attractive and functional workspaces. Try setting up a workbench with storage for tools and necessary materials nearby. You can create a dedicated art studio or crafting station with a simple table and some modular shelving. You can also use the space for other messy projects like repotting plants all without being in the way of other parts of the home.
Best of all, if you prefer a bare-bones industrial interior design style, an unfinished basement gives you an enormous head start. Add industrial style furniture, fixtures and decor to the space to use and expand upon what's already there. If you lean into the existing aesthetic, you can easily create a home office or a lounge for entertainment with no remodeling.
These are just a few tips for working with an unfinished basement. After all, unfinished doesn't have to mean useless.